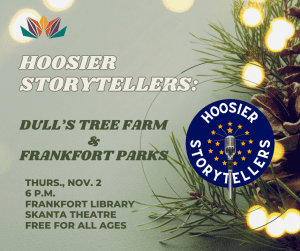 Hoosier Storytellers will ring in the holidays with special guests from Dull's Tree Farm and our own Frankfort Parks Department on Thursday, Nov. 2 at 6 p.m. in Frankfort Community Public Library's Skanta Theatre.
The award-winning Dull's Tree Farm, established in 1985, offers seasonal events throughout the year, including their Pumpkin Harvest and, of course, Christmas. As they say on their website, "Here at the farm, Christmas isn't just a season. It's a way of life! We love sharing the spirit of Christmas with our customers and encouraging them to hand down the timeless tradition of going into the field and finding the perfect Christmas tree with their families!" Tom Dull will discuss the farm's growth into a wonderful "agritourism" destination – a place where entertainment and farm education meet.
The Frankfort Parks Department has produced the Festival of Lights at TPA Park since 1992. This beautiful exhibit of lights is one of the top ten light displays in Indiana. It has become a very popular annual attraction that visitors can drive through and see around one million Christmas lights and many animated displays. Frankfort Parks Superintendent, Joel Tatum, will discuss all the preparations required to stage an event of this size. Based on Frankfort's reputation as the "Gem City," it's very appropriate that the park has such a fantastic annual display of lights.
Hoosier Storytellers is an ongoing series, where host Michael Clossin interviews guests of local interest as they discuss their unique experiences. The presentations usually last an hour, followed by questions from the audience. Registration is not required, and this program is free and open to the public.