Diana Wickes received the Volunteer of the Year Award at the LeadingAge Indiana Awards Luncheon held at their 2023 Annual Spring Conference on May 4, 2023, held at Crowne Plaza Union Station in Indianapolis, IN. The Volunteer of the Year Award recognizes an individual or group of volunteers within a member community whose commitment and dedication enhance the quality of life for seniors and their communities. Wesley Manor has been a long-standing member of LeadingAge Indiana and nominated Diana for this prestigious award.
Diana and her husband Brad have resided at Wesley Manor in our independent Village since 2009.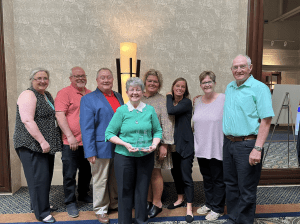 Diana did not let the grass grow under her feet and began volunteering immediately at the Wesley Manor Share and Care Thrift Shoppe, soon after her move-in. In 2014, Diana assumed the overall leadership role of the Share and Care Thrift Shoppe, which included coordinating and overseeing the other volunteers as well as assuring the continued success and tradition of this well-established program.
The Share and Care Thrift Shoppe offers Wesley Manor residents, employees, and guests an opportunity to purchase clothing, jewelry, small appliances, furniture, and a wide variety of other items which have been donated and then repurposed for the benefit of Wesley Manor residents.
Each Friday will find the shop and the adjoining corridor packed with residents awaiting their turn to get in and take their turn shopping. All items are marked at m
ore than a reasonable cost, but remarkably, the volume, or amount of sales generated through the Share and Care program is phenomenal and most of those funds are provided back to Wesley Manor to benefit programs and services for the residents we serve.
Since Diana has taken over the volunteer leadership of the program, she has done a phenomenal job in soliciting donations in order to keep the inventory of items available for sale up to date and vibrant within the shop, and consistent with the wants and needs of t
he residents.
In recent years, $60,000 + has been provided back to Wesley Manor to assist with various projects and aid in the assistance where operating budgets have been tight.
The Share and Care Thrift Shoppe is certainly a valued venue at Wesley Manor and the residents thoroughly enjoy the shopping experience and the "hunt for a bargain." Diana, through her volunteerism, makes this a continued possibility at Wesley Manor and we are grateful for her involvement in this project, which she clearly holds near and dear to her as a ministry.
Pictured: Front Center – Diana Wickes, recipient of the LeadingAge Indiana – Volunteer of the Year Award. Left – Right: Ginny Cromer, Associate Executive Director; Jerry Cooper, Maintenance Director; Brent Waymire, Executive Director; Jo Unroe,Resident Services Director; Cindy Reecer, Director of Nursing; Beth Wheeler, Environmental Services Director; and Brad Wickes, Diana's husband.